Save the date! Mari Swingle, Ph.D. will present on EEG effects from gaming and other I-technology addiction at the BSF October 12-13, 2019 workshop
BSF is pleased to feature
Dr. Mari Swingle
at its
October 12-13 meeting in Orlando
presenting on her innovative research and clinical methods related to gaming, internet, and other screen use "addictions".
The workshop Dr. Swingle is planning will explore the first discoveries of what was initially termed Internet Addiction, through to present day more globalized effects. It will explore adaptive, normative tech/screen usage as compared to what is increasingly proving to negatively affect development, mental and physical health, and arguably has pathological components. Her research on what excessive and/or interfering patterns look like on the
EEG and implications for neurofeedback interventions
will be discussed.
Please save these dates on your your calendar for this very timely workshop, and watch this page and your email for more information.
---
BSF members elect new officers and board for 2019
The polls are closed and the results tabulated for the BSF 2019 election of board members-at-large and officers. BSF voters elected a new President-elect, Treasurer, and four Board Members-at-Large as follows:
Curtis Takagishi, Ph.D. - President-elect
Louis Damis, Ph.D. - Treasurer
Steve Marcus, PhD - Board Member-at-Large
Kent Peterson, M.S., LMHC - Board Member-at-Large
George Rozelle, Ph.D. - Board Member-at-Large
Joe West, M.S., LMHC - Board Member-at-Large
Sharon Krieger, ARNP was also a candidate for Board Member-at-Large who was not elected by a two vote margin. BSF appreciates Sharon's candidacy and her many years of service to the Society. Thanks also to all who voted in the election. If you have an interest in serving on the BSF Board, or in some other capacity please
let us know
.
---
Thanks to Sue Wilson, Ph.D. and all who contributed
to the success of the BSF January meeting in Orlando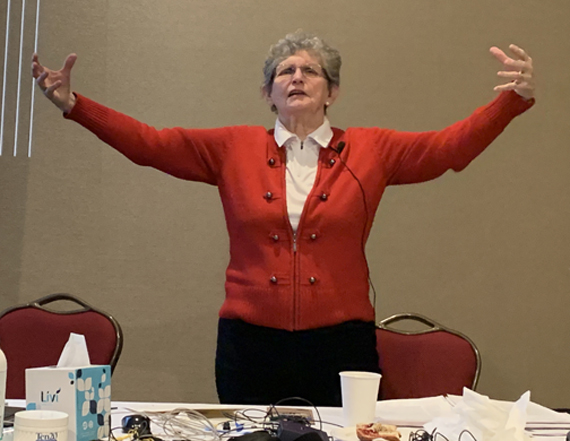 BSF expresses its appreciation to
Vietta "Sue" Wilson, Ph.D.
for her wonderfully informative and entertaining presentation, "Optimal health and performance (for everyone) through biofeedback and neurofeedback; Psychophysiological methods for assessment and training" at the BSF January 2019 CE meeting. We are also grateful for the support of
Bio Medical Instruments
, the
Biofeedback Certification International Alliance (BCIA)
, and all who attended and contributed to the lively sharing of ideas and warm collegiality. We look forward to seeing you in August for our next CE program.
---
Attended a BSF workshop? Here's the process for licensed health care providers to report credits to CE Broker

If you are a health care professional licensed in Florida and have attended a BSF continuing education (CE) workshop, you will need to report your attendance to CE Broker. The CE Broker online form makes the process quite easy.
---